| | |
| --- | --- |
| | Clintonville Elementary School teams up with FOODPLAY to "Make Good Eating Great Fun!" |
August 28, 2014
Dear Parent,
The beginning of the school year is approaching, and we want to extend a warm welcome to let you know that Chartwells School Dining Services has exciting plans for your school meal program. School meals remain nutritious, a great value and more satisfying than ever for both students and parents. This year, Chartwells has exciting events and new menu items planned for your child's school cafeteria. Our job is to make sure that we serve healthy, well-balanced meals that student will enjoy eating. We also strive to make the dining experience a special one, so we've planned activities that will appeal to all of our students. Below are some of the highlights to help begin the new school year.
Menu Highlights
This year we will be offering some of student's favorite foods featured in our Monthly Menus. I will also continue to introducing new food items to the menu that is both nutritious and delicious, including whole grains, new vegetables and fruits. Please never hesitate to reach out to our office with your children's favorite menu selection…
Simply Good
Throughout the year, students will have the opportunity to learn about healthier food options through fun and engaging activities that we have planned in the school cafeteria through our Simply Good program. Simply Good has a culinary emphasis that focuses on healthier meal options, especially ones with fruits, vegetables, whole grains and lean proteins. We will begin the year with our 'What's Your Hometown Specialty' theme event that includes a 'Join Us for Lunch Day' that is open to parents and adults of our elementary school students and an exciting 'What's Your Hometown Specialty' student recipe and video contest for secondary school students. Look for more information on these special events coming soon.
Meal Prices
"Pre-paid" lunches will cost $2.65 in elementary schools and $2.90 in secondary schools.
| | | |
| --- | --- | --- |
| | Breakfast | Lunch |
| Paid | $1.90 Elementary & $2.65 Secondary | $2.65 Elementary & $2.90 Secondary |
| Reduced | $0.30 | $0.40 |
| Adult | $3.25 | $4.25 |
Low-fat milk is available with all meals. All 8 oz. cartons are $0.60 and 8 oz. plastic bottles are $0.75
Other Information
Our mission is to serve nutritious, well-balanced meals that appeal to our students and school community and we are committed to providing the best food options and nutrition education for your child. To learn more about Chartwells, visit our website at www.north-haven.k12.ct.us or www.eatlearnlive.com. We 're excited about our partnership with North Haven Public School District and hope to provide a great program while becoming part of the community.
Need a Nutritional Meal,
During the summer or on Weekends?
(click on picture below)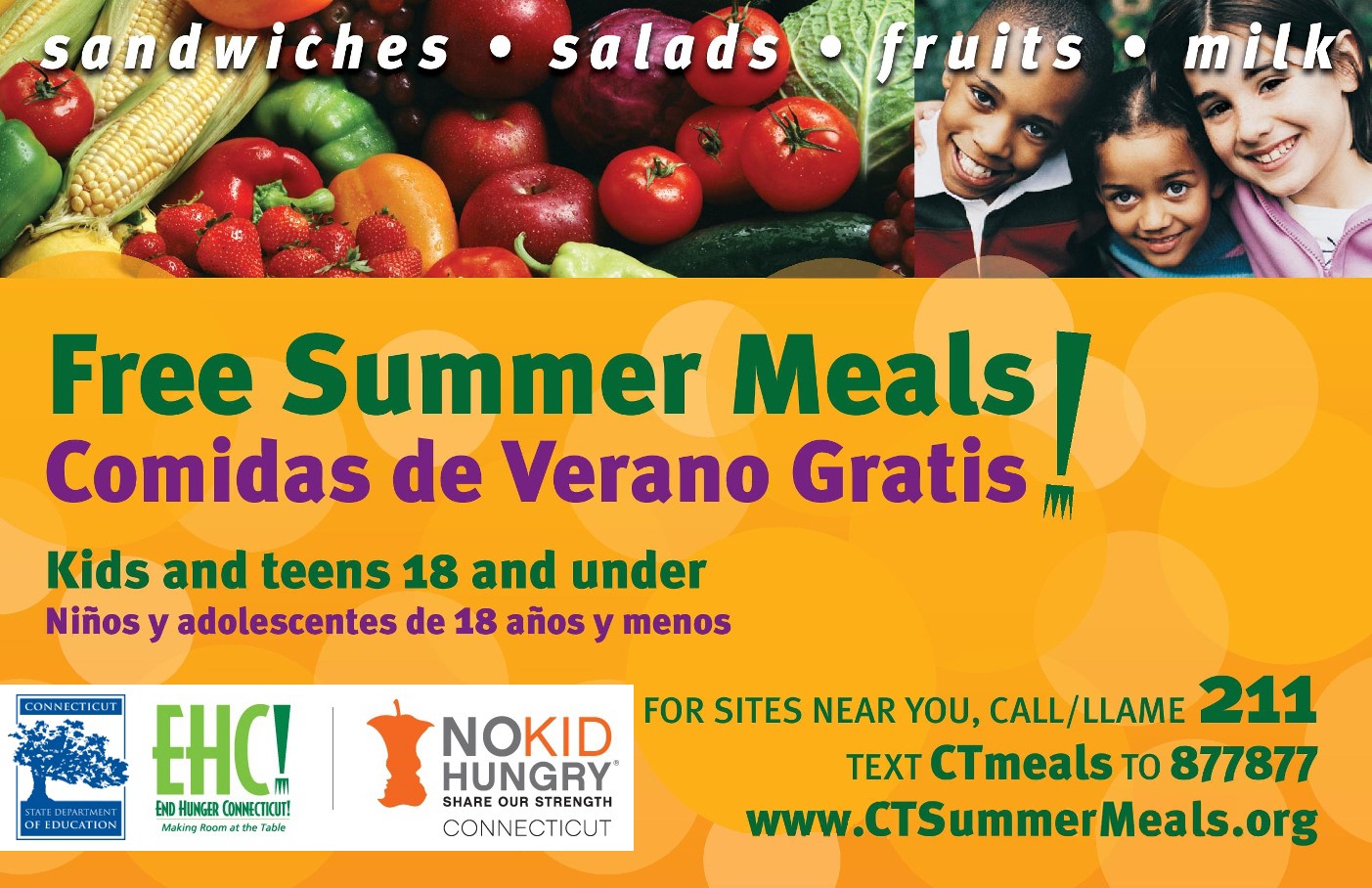 Check out some Local Food Pantries Located Close to North Haven Public School District that Provides Hot Meals when the School District is closed. Below are addresses and phone numbers for your added convenience.
Local Soup Kitchen North Haven
84 Broadway, Hamden, CT 06518
(203) 624-4594
930 Dixwell Ave, Hamden, CT 06514
(203) 562-5700
The Downtown Evening Soup Kitchen
103 Whitney Ave, New Haven, CT 06510
(203) 624-6426
311 Temple St, New Haven, CT 06511
(203) 772-3400
84 Broadway, New Haven, CT 06511
(203) 624-4594
If you need any help or have any questions you can call directly to each location.
Please feel free to contact us at any time at Patricia.Iraci@Compass-usa.com or 203.239.6415
Best Regards,
Patricia Iraci
Director of Dining Service
Chartwells School Dining Services